Document panel is used to capture a picture with the builtin camera of the Mobile device and store the path of the picture in a document field type data field. Document panel is also used when you want to add an OLE object (file) to a datafield by manually, open or clear the linked document.
The Document panel contains the following controls:
Document panel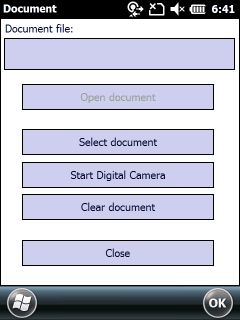 Document file: Shows the name of the linked file.
Open document - Opens the linked document in the associated viewer/application.
Select document - Opens the Document File panel to select an OLE object.
Start Digital Camera - Starts the builtin camera and opens the associated Image Capture application to take a picture. The created picture will be saved beside the layer file.
Clear document - Clears the path of the previously linked document.
Close - Closes the dialog.