New part
Allows you to add new part(s) to the geometry of a selected point, line or polygon feature in the edited layer. The New part tool remains active for adding new part to a selected feature until another tool is activated.
Possible use cases
•In case of point and MAP - TopoLynx vector file format the new geometry will be a multipoint
•In case of line or polyline feature the new geometry will be a multiline
•In case of polygon feature the new geometry will be a multipolygon
Multifeature vector geometries can be exploded into single features with the

Explode tool.
Tap / Left click: selects feature on the map at the tapped location then adds a vertex of the new part
Tap and hold / Right click: displays the Editing context menu to use the Create option to update the geometry
Selected feature
Adding new polygon part and context menu
You can add new parts inside and also outside of the selected polygon feature and also inside the created new part.
Island in a polygon part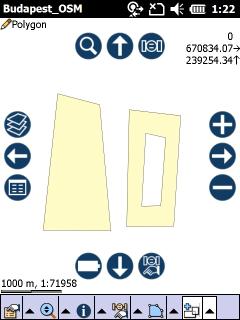 New part tool can be identify a feature for adding new part on the map when information query property and editing is turned on for a vector layer in the Layers panel.